Navigating Your Journey through Grief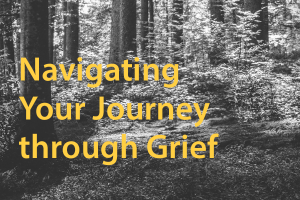 "Navigating Your Journey Through Grief" is a 7-week educational grief support workshop open to anyone in the church or community who is grieving the death of a loved one. This opportunity to learn more about the grieving process throughout the entire journey will begin online Sunday, February 6, 2022, from 4-5:30pm and in-person on Wednesday, February 9, 2022, from 6:30-8pm.
Please Note:  You need to have the two Covid-19 vaccines as well as the booster in order to attend in person.
Grieving can often feel overwhelming with a myriad of emotions and challenges that sometimes seem out of control. It can be even more difficult when well-meaning people give unsound advice such as "just give it time," or "get back to your normal activities as soon as you can." Dr. Susan Zonnebelt-Smeenge (psychologist) and Dr. Robert DeVries (pastor) have developed and will lead this group based on a book they have co-authored entitled, "Traveling Through Grief: Learning to Live Again After the Death of a Loved One." We recommend that every participant obtain this book to augment the discussions during the meeting. You can obtain the book through Amazon for $11.99 (or any online bookseller), or for $10 (exact change, please) at Mt. Bethel Church (4385 Lower Roswell Rd) or from Bob and Susan (616-780-1082; 616-780-5433) for pick-up at their home. If the cost is an issue for anyone, we will supply you with a copy.
Susan and Bob have also served Mt. Bethel as facilitators of the GriefShare program, but it is not necessary to have attended those sessions to come to this group. If you would like additional information or would like to register for the group, please contact Robert DeVries (616.780.5433) or Rev. Kim McGarr (770.652.9913).